Why Attend IPPE?
IPPE's extensive range of solutions draws industry leaders worldwide committed to business development, implementing best practices, updating operations and remaining competitive. Attending IPPE will allow you to build relationships, find new suppliers and vendors, and connect with your colleagues in one place at one time.
IPPE will welcome a global audience of meat, poultry and egg and animal food professionals together in Atlanta, Ga. USA, while once again showcasing the newest solutions, technologies, research, processes, services and products that the global animal food and protein industries has to offer.
If you are looking for more great reasons to attend the IPPE in Atlanta, check out these attendee brochures, offered in multiple languages.
About IPPE
IPPE is the world's largest annual display of technology, equipment, supplies, and services used in the production and processing of eggs, meat, and poultry and those involved in feed manufacturing.
The 2023 IPPE had 1,184 exhibitors occupying 532,190 square feet of exhibit space. There were 27,274 registered attendees from the poultry and egg, meat and animal food industries. Domestic attendance made up 74% of the total number. Representing 125 countries, 26% of visitors were international.
The poultry and egg, meat and animal food professionals that attend IPPE are made up of C-level management, sales & marketing, plant / live operations, engineering, and research & development.
IPPE is the world's largest annual poultry and egg, meat and animal food industry event of its kind and is one of the 30 largest trade shows in the United States.
more show details below...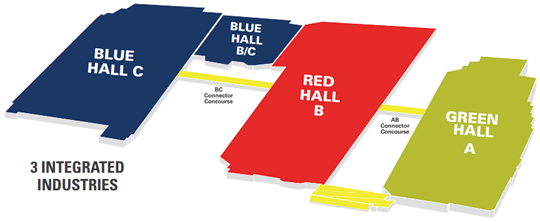 Green Hall A
Animal Food Ingredients & Equipment / Animal Health / Rendering
Red Hall B
& Blue Halls BC / C
Animal Health / Egg Production & Processing / Genetics / Incubation / Live Production (Growout) / Food Safety / Worker Safety / Meat & Poultry Processing & Packaging / Rendering
Examples of Company Participation
A B Foods LLC
Adm Animal Nutrition
Agstate
Agropecuaria El Gran Chaparral
Agrosuper
Alatrade Foods
Allen Harim Foods LLC
Almark Foods
American Foods Group
Amick Farms LLC
Anpario PLC
Avidesa Mac Pollo
Bachoco S.A.
B & B Poultry
Bell & Evans
Ben E. Keith Foods
Boar's Head Provisions Co., Inc.
Bob Evans Farms
Braswell Milling Company, Inc.
Butterball LLC
Cal-Maine Foods Inc
Cardinal Meat Specialists, Ltd.
Cargill Animal Nutrition
Cargill, Inc.
Carl Buddig And Company
Caviness Beef Packers Ltd
CCF Brands
Central Meat & Provision
Chick-Fil-A
Claxton Poultry
Colorado Premium Foods
Cooper Farms, Inc.
Country Charm Eggs
Crescent Foods
Crider Foods
CTI Foods
Culver Duck Farms, Inc.
Dakota Provisions
Daybreak Foods, Inc.
Devenish Nutrition
Diana Pet Food
Dietz & Watson, Inc.
Farbest Foods Inc
Feedworks USA
Fieldale Farms Corporation
Foster Farms, Inc.
FPL Food
Freshpet
Furst-McNess
George's Inc
Gold Creek Processing
Granja Brasilia
Harrison Poultry Inc
Herbrucks Poultry Ranch
Hillandale Farms
Hill's Pet Nutrition, Inc.
Holmes Foods
Hormel Foods Corporation
House Of Raeford
Ingram Farms
Jack Links Beef Jerky
JBS USA
Jennie-O Turkey Store Inc
Joe Jurgielewicz & Son Ltd
Johnsonville Sausage, LLC
JTM Food Group
Kalmbach Feeds Inc
Kenosha Beef International, Ltd.
Kent Nutrition Company
Koch Foods
Kreamer Feed, Inc.
Land O'Frost, Inc.
Land O'Lakes, Inc.
Lincoln Premium Poultry
Lopez-Dorada Foodsv Maple Leaf Farms Inc.
Maple Lodge Farms Ltd.
Mar-Jac Poultry Inc.
Mars Petcare Us
McClain Foods, Inc
Merrick's Pet Care, Inc.
Michael's Finer Meats, LLC
Miller Poultry
Mountaire Corporation
MPS Egg Farms
National Beef Packing Co., LLC
Nestle Purina
Nueske's Applewood Smoked Meats
Nutra Blend
Oberto Sausage Company
Opal Foods, LLC
Osi Group, LLC
Peco Foods Inc.
Performance Food Group
Perdue Farms Inc.
Pilgrim's
Pollos Vidaurri
Performix Nutrition Systems
Prestage Farms Inc.
Purina Animal Nutrition
Pronaca
Randall Foods
Redondos SA
Rose Acre Farms Inc.
Salm Partners LLC
Sauder Feeds, Inc.
Seaboard Foods
Shandoah Valley Organic
Simmons Foods Inc.
Smithfield Foods, Inc.
Standard Meat Company
Sugar Creek Packing Company
Suzanna's Kitchen
Syfrett Feed Company
The Kraft Heinz Company
The Wenger Group
Tip Top Poultry Inc.
Turkey Valley Farms
Tyson Foods, Inc.
Vita Plus
Virginia Poultry Growers Coop Inc.
Walnut Hill Feeds
Wayne-Sanderson Farms LLC
West Liberty Foods
Western Milling
Wilbur-Ellis Nutrition
2023 IPPE SHOW STATISTICS:
More than 80% of attendees consider IPPE as fairly to very important for their businesses.
Approximately 4 in 5 were fairly or very satisfied with IPPE.
For more than 2 in 5, it was their first time attending with around a third attending in 2022.
C-level executives and sales/marketing job holders were represented best, alongside directors, sales/marketing, plant/live operations, engineering/ facility, and research & development personnel.
Education and networking objectives were key for attendees.
The representation of product groups and segments at IPPE was valued highly by more than 3 in 4 attendees.
More than half of the attendees were likely to purchase a product or service from their experience.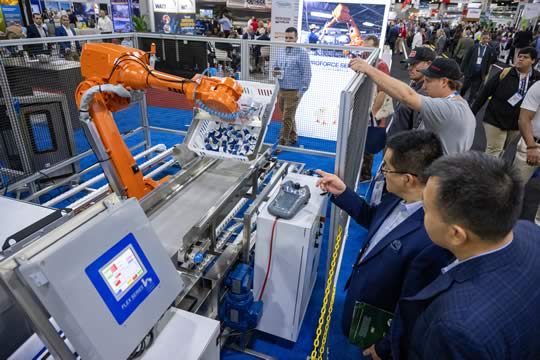 Show Hours
Tues. - Jan. 30, 10:00 a.m. - 5:00 p.m. ET
Wed. - Jan. 31, 9:00 a.m. - 5:00 p.m. ET
Thurs. - Feb. 1, 9:00 a.m. - 3:00 p.m. ET
Show Activities
College Student Career Program
Young Leaders Under 30 Program
Welcome Reception
Free and Paid Educational Programs
TECHTalks
New Product Showcase
and much more...
Who Can Attend?
IPPE is a private business event that incorporates global meat, poultry and egg production and processing and animal food manufacturing. IPPE management reserves the right to deny registration to non-affiliated groups or individuals at its discretion.
Check out our FAQ section for more answers to the most commonly asked questions regarding the IPPE.