We invite you to join us and 30,000 meat, poultry, egg and animal food industry professionals for the 2024 IPPE - the world's largest annual trade show for the meat, poultry and egg, and animal food industries. IPPE connects industry professionals committed to implementing best practices, updating operations and remaining competitive with solutions from across the globe. Representatives from all over the world, including operation and plant managers, purchasing agents, engineers, and researchers from the world's top feed, meat processing and packing and poultry companies, will be at the IPPE. This is an opportunity to connect with key decision makers from more than 120 countries.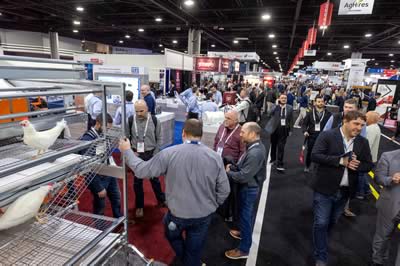 Get eyes on your innovations and solutions by thousands of decision-makers from the poultry and egg, meat and animal food industries at IPPE. Buyers from around the world know that IPPE is the place to find next-generation technology, new services and the latest efficiencies from top suppliers, all under one roof. Reserve your place by submitting your application today!
Links to Get Started (2024)
Already an exhibitor? You can find Exhibitor Resources here.
---
Engage Attendees
Attendees come from more than 125 countries and 42% of them are new to the show. Get in front of your customers and new prospects for three days of in-person interaction. IPPE brings in thousands of attendees, with 78% involved in the purchasing decision process!
Network with Clients/Colleagues
In-person discussions help gauge the end users current and future needs, allowing you to position your products for success.
Showcase Products
Showcase your products to more than 28,000+ attendees. An additional exhibitor benefit is your listing by company name and booth number in all printed show guides with more detailed listing of product and service categories, company logo, and description in digital guides and attendee planners.