International Poultry Scientific Forum (IPSF)
The International Poultry Scientific Forum (IPSF) will be held January 29-30, 2024, and is sponsored by the Southern Poultry Science Society, the Southern Conference on Avian Diseases, and U.S. Poultry & Egg Association. The forum presents information on industry topics such as environmental management, nutrition, physiology, pathology, processing and products, and avian diseases.
For questions regarding the IPSF, contact Barbara Jenkins, bjenkins@uspoultry.org.
Overview continued below...
When
Monday, January 29, 8:00 a.m. - 5:00 p.m.
Tuesday, January 30, 8:00 a.m. - 12:00 p.m.
IPSF Registration
Attention!
The IPSF registration button will become active beginning: October 16, 2023 9:00:00 AM EDT.
2024 Abstract Submission
The abstract submission site for the 2024 International Poultry Scientific Forum is now open. Please review the submission guidelines before submitting an abstract. The collection site will remain open for submissions and editing until November 10, 2023 11:59:00 PM EST.
---
2023 IPSF Retrospective
IPSF Program | IPSF Abstract Book
---
IPSF is sponsored by:

Southern Poultry Science Society
Click here to visit the SPSS Web site.
Click here to view the SPSS Constitution.
President: Dr. Jesse Grimes, NCSU
1st Vice President: Dr. Roshan Adhikari, CJ Bio America
2nd Vice President: Dr. Dianna Burassa, Auburn
Executive Secretary: Dr. Mary Beck, Mississippi State University, Emerita
Past President: Dr. Curran Gehring, Tucker Milling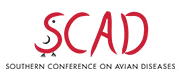 Southern Conference on Avian Diseases
Click here to view the SCAD Mssion Statement
President: Christine Vuong, UArk
Secretary/Treasurer: Dr. Susan Williams, UGA
Department of Population Health
College of Veterinary Medicine
University of Georgia
953 College Station Road
Athens, GA 30602-4875
Phone: (706) 583-0523
Fax: (706) 542-5630
smwillia@uga.edu
Directors:
Dr. John El Attrache, CEVA
Dr. Alejandro Banda, MS State
Dr. Rocio Crespo, NCSU
Dr. Kiril Dimitrov, TVMDL
Dr. John Donahoe
Dr. Olivia Faulkner, CEVA
Dr. Joe Giambrone, Auburn
Dr. Monique Franca, UGA
Dr. Maricarmen Garcia, UGA
Dr. Rüdiger Hauck, Auburn
Dr. Mark Jackwood, UGA
Dr. Brian Jordan, UGA
Dr. Blanca Lupiani, Texas A&M
Dr. Ken Macklin, Abuburn
Dr. Mary Pantin-Jackwood, SEPRL, USDA/ARS
Dr. Holly Sellers, UGA
Dr. Christine Vuong, UArk
Dr. Susan Williams, UGA